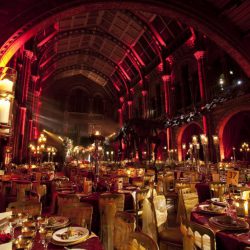 Stunning Events At One Of London's Most Iconic Venues – The Natural History Museum.
From informal and intimate to creative and stunning, the Natural History Museum must be one of the most iconic event venues in London.
Natural History Museum is not only an international leader in the study of the natural world, but also plays host to some of London's most spectacular weddings, parties and private events.
From intimate gatherings to celebrations on a grand scale and award ceremonies to charity balls, the museum's magnificent spaces provide a sublime backdrop for a memorable occasion.
The Venues
Hintze Hall is the largest venue, boasting Victorian architecture, soaring arches and a space suited to events on an epic scale.
For a more intimate celebration, the Romanesque North Hall is perfect. It can also be combined with the contemporary tranquility of the Darwin Centre courtyard for a blissful summer setting with cocktails or street food outdoors.
Alternatively, guests can dine in the celestial Earth Hall, raising a toast next to the resident Stegosaurus fossil, before ascending through the mixed-metal Earth sculpture into one of the fascinating galleries.
Whichever venue – or combination of venues – you choose, Natural History Museum's dedicated venue hire team has a wealth of experience and is expert in planning and delivering even the most prestigious events.
Find out more about the venues available at the Natural History Museum through their website.
If you would like to find out more about our catering and planning services for this venue, please feel free to call us on ; 

0203 150 2520 (London Office) or 0161 902 0010 (Manchester Office) or email us using the form at the bottom of this page.